What is Peddler.com?
Peddler is the first social marketplace where you can shop together with like-minded people for less.
What is group buying?
Group buying is also known as crowd buying and collective buying. To put simply, it gives you significant discounts on products you want when you shop together with others.
How does group buying work?
We reach out to merchants for the best crowd buying offers.
Merchants provide deals with major discounts; the more users opt in to purchase, the higher the discount.
More and more users choose to buy the product, driving the price down.
Who is a Peddler?
A user of Peddler.com. Once you register on the site - you become a Peddler too!
How do I purchase an offer?
There are 2 ways to purchase on Peddler.com. You can 'Buy It Now' or 'Hold & Wait'.
Buy It Now guarantees the product at its current unlocked price and your order is shipped straight away!
When you Hold & Wait, you only pay and your item is shipped if the lowest tier is unlocked by the time the offer ends. If the lowest price is not unlocked, only the Peddlers that opted for Buy It Now will be charged and receive their desired item.
To see more about how purchasing works, check this out.
When do I pay?
If you click Buy It Now, this will take you to the checkout to complete payment and your item will be shipped to you straight away.
If you Hold & Wait, you will only pay if the lowest price is unlocked, however we need your payment details now to make sure they are valid and have available funds.
For some payment types (such as iDEAL) you might be required to re-input your payment details when the offer ends. If so, we will always inform you by email.
All the payments are processed by Stripe. Their platform handles billions of dollars every year for forward-thinking businesses around the world.
What is the progress bar?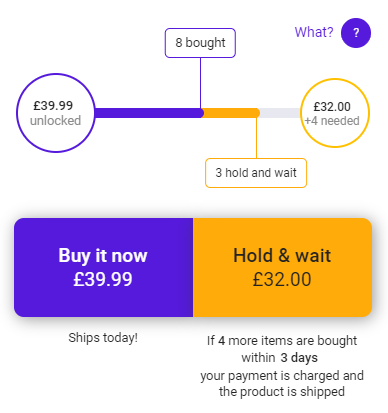 You'll see the progress bar in various states on different offers throughout Peddler.com.
The purple bar shows how many Peddlers have opted to Buy It Now and the yellow bar shows how many have opted to Hold & Wait for the lowest price. To try out a simulation for yourself, you can click the 'What?' button on any product page.
What are the tiers?
Those circles on the progress bar are called the tiers - milestones that are reached as purchases are made. Each tier has a label showing the price and how many more purchases are needed to unlock that price. You'll notice them changing colour as they're unlocked.
What does it say underneath the progress bar?
The info below the bar is a summary. It shows the total number of purchases split between Buy It Now and Hold & Wait and how many more Peddlers are needed to unlock the lowest available price.
What does the timer mean?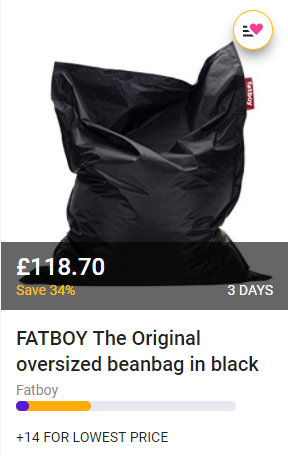 All offers have a countdown timer. It starts when the first purchase is made. When browsing products from the homepage, you can see the timer in the bottom right hand corner of the product image, in this example there are 3 days left on the offer. You can also see the timer when you click into the main product page in the top right hand corner of the page.
Make sure to snap those great offers before the timer runs out!
What if the reserve price isn't unlocked?
If the reserved price is not unlocked, only the Peddlers who chose to Buy It Now will be charged and will receive their orders.
What is a Wish List?
Creating a Wish List is a great way for you to organize your favourite products on Peddler. You can either leave the Wish List open to be curated by anyone on Peddler.com, or only allow pre-approved curators. Launch your own Wish List or browse and contribute to ones already created by other Peddlers.
How can I allow my friends to contribute to a Wish List?
Simply head to your Wish List's page and select the Curators tab. You can either search for a fellow Peddler or share your Wish List on social media.
How do I Peddle a product?
Just Peddle It! Simply go to the Peddle a Product page, and enter the link to the product you've found on another website. This adds your product to your wish list. Then, we'll do the hard work for you and match your product to a great offer.
Why should I Peddle a product?
When you peddle a product you are simply adding a product to Peddler. This attracts merchants, brands and makers looking to make you and your fellow Peddlers a great offer.
How do I become a Merchant?
In order to become a Merchant on Peddler, register here or get in touch with us via email at [email protected].
How long will it take for me to get my product?
Every product has a processing time that is indicated by the merchant - this is the time it takes for the merchant to prepare your shipment. Each offer has 1 or more shipping options, which all have an indicated estimated delivery date.
Why was my purchase cancelled?
There are many reasons why this could've happened.
No worries though! We're always here to help and answer all your questions! Please contact us for more details if your purchase was cancelled, or you can email us directly at [email protected].
Can I get a return and/or refund on my order?
Merchants are required to (at a minimum) adopt a 14 day return policy on anything sold on Peddler.com. Furthermore, you have rights protected by laws and regulations and every Merchant must abide by the laws of the destinations they ship to and from so you are protected from any nasty business.
We ask all of our Merchants to handle returns, refunds and disputes attentively and with the utmost care and respect for your concerns.
If something doesn't go right, please do not hesitate to get in touch with us.
What payment methods can I use?
You can use most debit and credit cards. We are working hard to add more payment methods to our site soon!
Does it cost me anything?
The site is free to browse and use to all Peddlers!
If you wish to become a Peddler Merchant, there might be small fees associated with your selling activities (depending on your subscription type). If you are interested in finding out more about becoming a Merchant, get in touch with us via email at [email protected].
How do I reset my password?
Forgot your password? No problem! Follow the instructions here.
What do the country flags displayed on Merchant profile avatars mean?
The flag indicates which country the Peddler Merchant is based in. It does not, however, indicate which country the product will be shipped from.
How do I report an issue with the site?
Simply log in to your Peddler account and contact us here or send an email to [email protected].