Danish Aesthetic: LightYears ahead
by
Rebecca Wilson
Danish design brands have in recent years become synonymous with 'cool', achieving a cult following of androgynous homage worldwide.
Danish design brands have in recent years become synonymous with 'cool', achieving a cult following of androgynous homage worldwide. From ultra-luxe East Village residences to ultra-hip Kreuzberg penthouses, the in-crowd are scrambling to infuse their space with a sleek dusting of Danish design finesse. So much so, that designers on the outside of the region's homegrown powerhouse are too scrambling to create with a flair of unobtrusive yet strikingly beautiful aesthetic.
Take Tom Dixon's extraordinarily paired back focus on sleek lines and rational functionality and it becomes apparent that the range is a nod to the principles so fundamental on the Danish scene. The 'Felt' range by the British designer features a floor light, standing at just over a meter and a half in height, instilling a modest luminosity to its place. The lamp features a cool grey felt shade with a white interior panel, positioned over a sturdy anodised aluminum tripod stand, introducing a certain warmth in both presence and texture.
"This is not just a lamp"
The piece truly exists at the intersection of functionality and sleek credential owed to its sound absorption feature. Are you all aboard the design hype but didn't yet find the time to install that all-singing acoustic soundproofing in to your Shoreditch abode? Fear not, the Felt range from Tom Dixon has it covered. This is not just a lamp.
At £315 / €370 (approx.), the piece is certainly no IKEA remnant but is a steal for such a beautifully engineered piece of British design encapsulating the much sought after Danish aesthetic in its totality. The clean lines and sleek visceral beauty are further extended across the entire felt family and beyond, allowing you to bring in other pieces from the collection to further cement your credentials as a member of the design-elite. The organically designed shade itself can be purchased separately as a pendant to be hung solo as an all-eyes on me feature, or even hung in multiples for a more on-trend cocooning effect in the chosen space.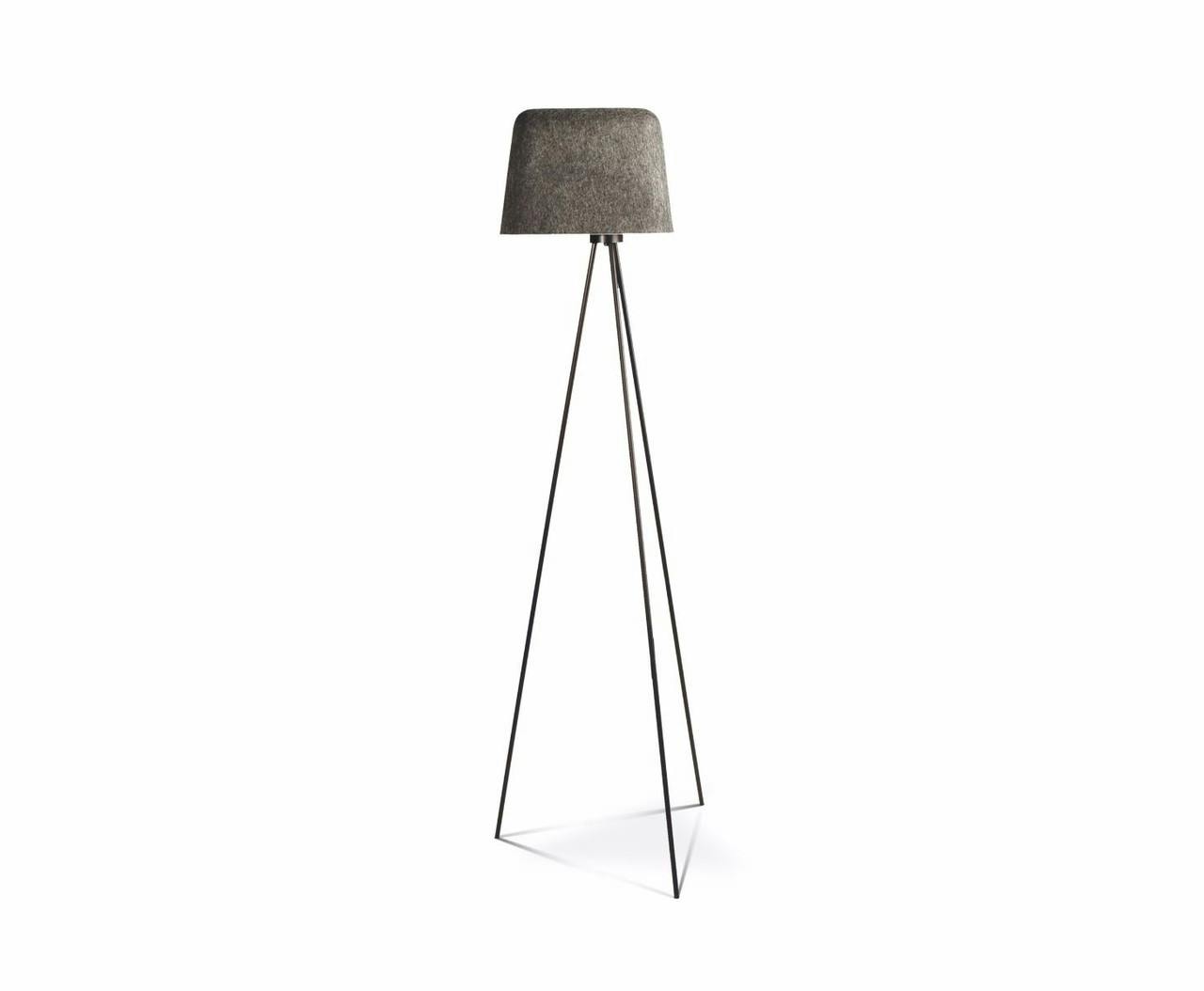 Technical stuff:
Type: Floor light
Width: 40cm/15.7in
Material: Heat pressed felt
Height: 152cm/59.8in
Fitting: Floor stand
Weight: 6.84kg
Colour: Grey / White
A true pioneer of Danish functionality and minimalism is Normann Copenhagen. The design powerhouse effortlessly exudes a hip and edgy vibe pulling in five star reviews from the most critical of the industry trailblazers. The brand has garnered a cult following of Hipsteratti - such a following that the brand opened its flagship store in the hipster-haven of Østerbro in the Danish capital.
The 'Hello Floor Lamp', in a neutral palette composed of muted grey at its shade and natural beech at its structure, offers an air of futuristic-come-fun aesthetic to its setting. Most fittingly suggested to position in pairing with a modular sturdy textured seating arrangement or sofa, enabling the light to express an airy warmth with a sultry glow and ultimate style statement upheld by the white reflective interior of the shade. The primary structure, composed of coated dark tubular steel and a natural beech lends the lamp its new-age earthy credentials, resolved at the base with a matching coated disc floor stand. The shade is designed so that it can be adjusted in the non-typical fashion of being able to be ajusted left or right, adding an almost human like head moving feature to the Instagram-worthy design. Looking for a statement piece to add to your collection? Look no further.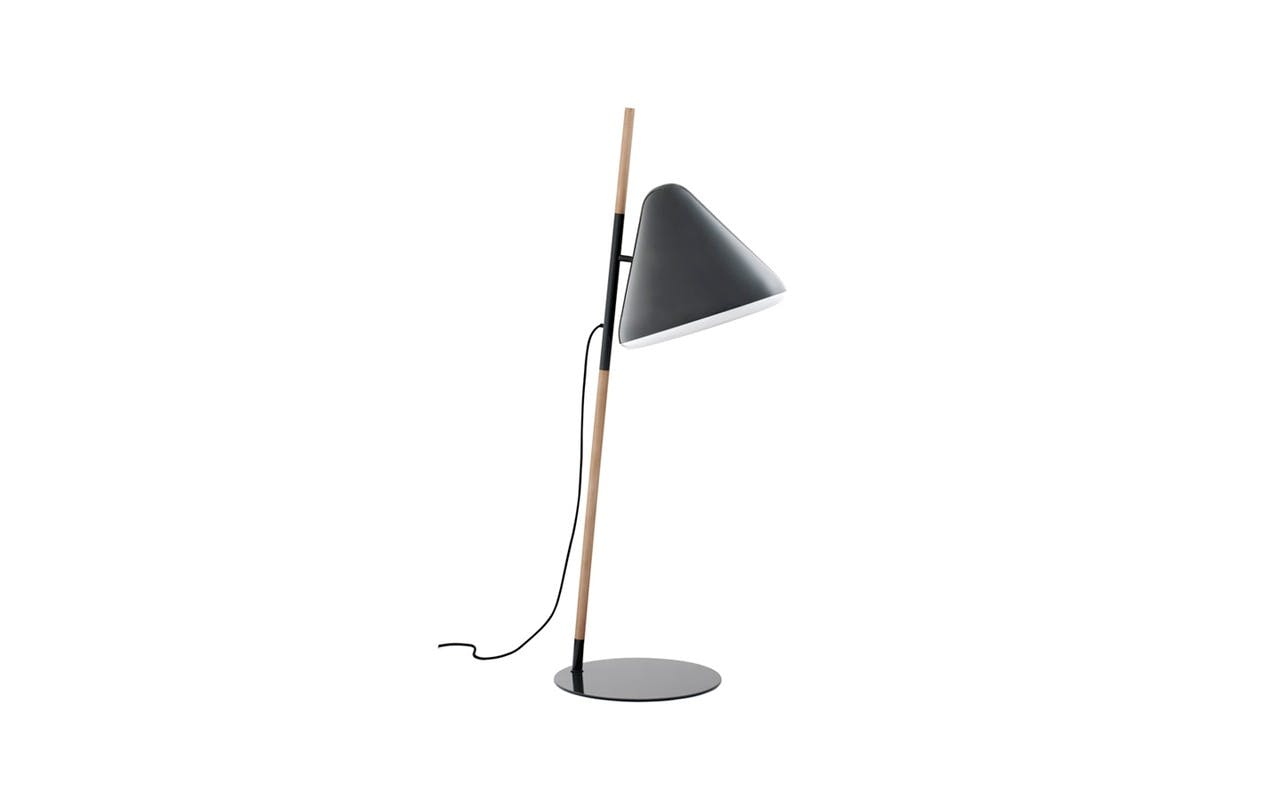 Technical stuff:
Type: Floor light
Width: 49cm/19.3in
Material: Beech wood & coated steel
Height: 165cm/64.9in
Fitting: Floor stand
Weight: 11.5kg
Colour: Grey / Beech
The 'Boom' floor lamp from award winning Danish duo, Glismand & Rüdiger is a proud homage to the pair's shared passion for design and simplicity. The structure boasts a statement not to be ignored. Simple, yet effective at catching the eye, the striking piece is perfect for any space in need of illumination in the most fashionable and cool sense of the word. For those in search of a more classical lighting solution with a larger reach, the 'Boom' lamp with its spotlight-esque glow can be positioned over a sofa as a practical lighting solution or for the more feature focused, can be placed in the corner of a room as a statement piece although, both positioning would command the eye equally due to its remarkable design.
A pointed boomerang-shaped base supports a polished and elegant curved branch-like arm, allowing the eye to travel effortlessly to the grey cotton fabric shade set in a dark and moody grey muted tone.
"Cult potential"
It is no surprise that this fairly-new arrival to the design scene have already achieved critical acclaim having won the prestigious Red Dot Design Award via their agency, ByKATO. The 'Boom' lamp is an ideal investment piece for those looking to be one step ahead of the in-crowd proposing the ability to claim you were first on the scene to realise the cult potential in this rising star of the design-elite.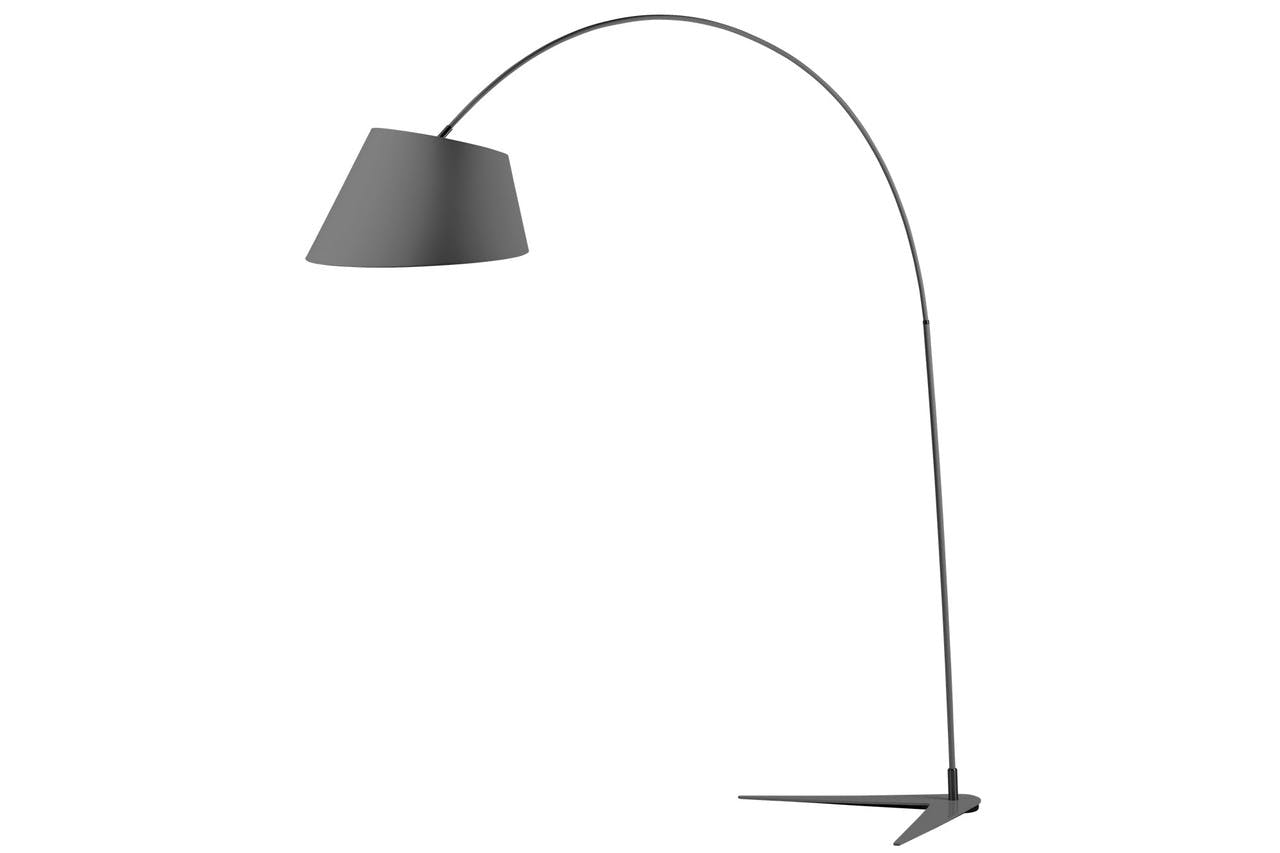 Technical stuff:
Type: Floor light
Material: Stainless steel & cotton
Height: 190cm/74.8in
Fitting: Floor stand
Colour: Grey
Whichever your preference on the above, it is safe to say that all are investment pieces and all will bring a cool, collected and composed vibe to any setting.
Chosen your lamp? Time to indulge further? Take a look at my curated selection to complete the look and vibe you're aiming for just perfectly.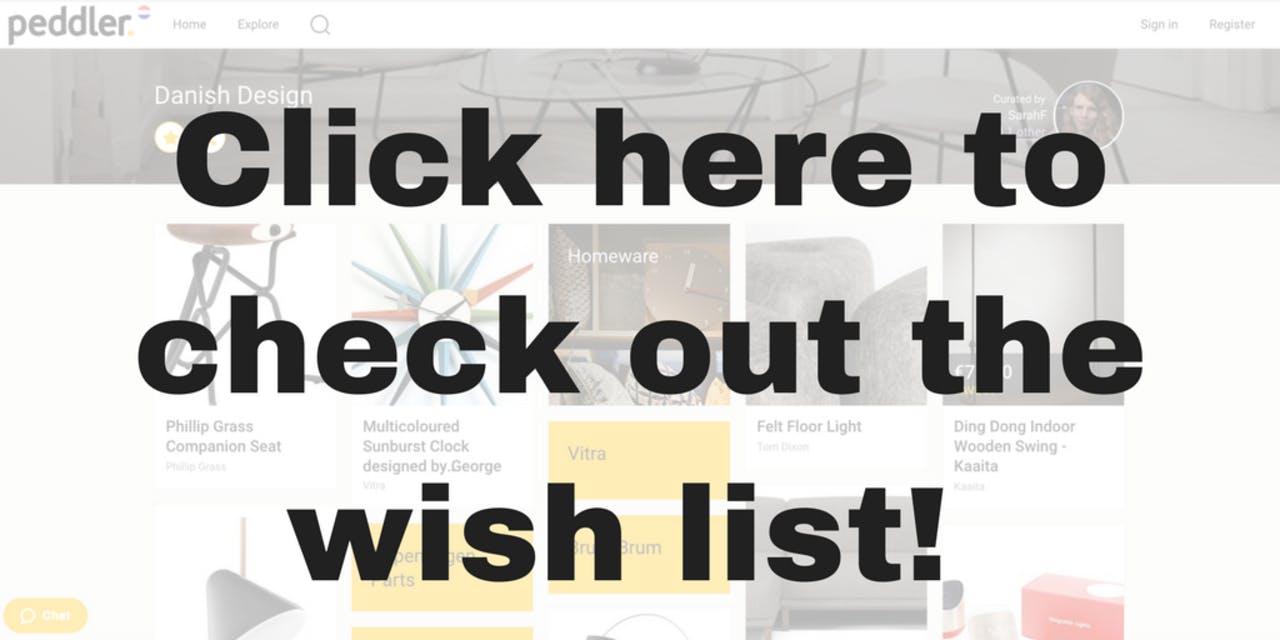 Rebecca Wilson
Editor & Blogger