BIG changes we've made for you
by
Marit Roomer
Introducing Crowds - a new way to shop together and get deals even faster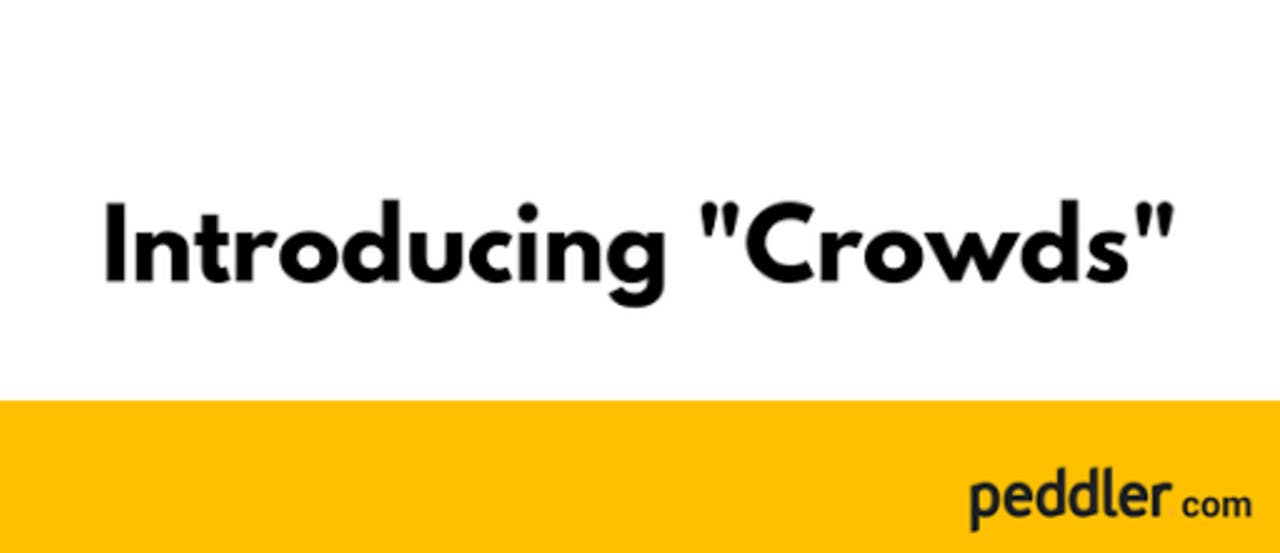 1. What are Crowds on Peddler.com?
Crowds allow like-minded people with similar product interest to share products they want and get unbeatable discount offers from merchants. For example you could be interested in the latest running shoes, cameras, smart watches or even coffee machines. It could be anything! The more people who also indicate that they are interested in the same products (what we call boosting), helps Peddler get the prices down 20% to even 50% off.
2. How do Crowds differ from Wish Lists?
Wish Lists were designed for you to express what products you wanted. Just like Pinterest, you added the things that you wanted or inspired you.. Through working with Peddlers like you, we realised there was a more beneficial way to express your interest, save more, and at the same time collectively inspire each other.
3. Ok, I'm intrigued. How do Crowds work??
Anyone who joins a Crowd can add the products they want, but Peddler does the leg work - like growing the Crowd and getting great offers on the things you would love to buy. Peddler populates the Crowd with products based on shared interests, and you can even add ANY product you want using our simple 'Peddle it' feature. It's easy! You tell us what product you would like to see, and Peddler connects you with the merchant that can offer it. The more people that commit to buying the product, the cheaper it gets.
"Boosting and Dropping" it like it's HOT ...
Boost it when it's hot, and drop it when it's not. When a product is added to a Crowd, you can "Boost or Drop" the product. Boosting or dropping enables you to express interest or not by simply clicking on the rocket on each product which moves your product up and makes it more visible for others to also boost it!

Join a Crowd that you feel is relevant to your interests OR ask Peddler to create a new Crowd for you and your existing community.
As a member of the Crowd you can add any product, and by doing so you ask the Crowd whether they want to buy the same product with you.
As a member of the Crowd you get to vote for products by boosting or dropping.
You only need 5-10 like-minded buyers to unlock the lowest price!
Boosting should not be confused with Peddling. Peddling a product happens when you add a product you want to the site. Boosting expresses your interest in a product which helps you and the community get deals.
4. Ok great, but what happens to the products on my Wish List and everything I've Peddled?!?!
Don't panic, we have moved any product that you have ever peddled or put on your Wish Lists to "My boosts" under your account settings (you must be logged in to see it). With a tap of a button, you can move products within "My boosts" to a crowd to start getting deals! If other Peddlers "boost" your product, this will increase the chances a merchant will offer a deal!
5. How do Crowds make purchasing products better?
Merchants will offer better prices the more boosts your product has. By anonymously expressing interest, you create demand for the merchants' product. As merchants get insight to anonymous product demand, they don't have to pay for expensive advertising campaigns which results in big price reductions on Peddler.com.
That's why, buying as a group on Peddler.com delivers the value back to the consumer. Working together as a Crowd allows everyone to benefit from collective purchasing power. You win, the merchants, win, everyone wins.
Why should you as a consumer pay for annoying advertising that targets you based on the information you have been sharing within social media or through search? Crowds allow people with common interests to inspire other like-minded consumers.
7. How do I join a Crowd?
Go to the browse Crowds page and click the "Join the Crowd" button on any Crowd you identify with, and you are ready to start boosting, as well as add products to that Crowd! Although you can boost products without joining a Crowd, your boosts are worth more if you join one! So increase those boosting super powers and join now!